Zumimall Wireless Security Camera F5N/F5B(Product Link: F5N / F5B): This wireless security camera utilizes advanced technology and supports high-definition video recording and real-time monitoring. With wireless connectivity, you can access camera footage anytime, anywhere and remotely monitor it through your mobile devices, ensuring the security of your home.
Bk04(Product Link: Bk04): The Bk04 is an indoor camera specifically designed for security purposes. It utilizes a high-definition image sensor and possesses excellent night vision capabilities and wide-angle shooting. You can view real-time monitoring footage anytime via your mobile phone or tablet and remotely control it through your mobile device.
These products all boast excellent quality and advanced features, providing comprehensive security for your home. Whether you need to monitor your front door, backyard, or the entire house, our products can meet your needs.
Choose Zumimall and enjoy a safer and more secure life for your family!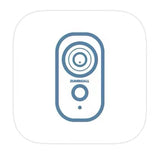 1)Download ZUMIMALL APP
2)Reset the camera
3)Scan the QR code
4)Successfully connected to WiFiZUMIMALL APP can add wireless camera unlimited and support 4 different members to share live broadcasts.
Cloud Service:
AI Services: