Why choose ZUMIMALL Security Cameras Wireless Outdoor?
2K Lens & 2 Night Vision Modes-2K FHD Color & Infrared 2-Night Vision Modes.3MP Full HD color picture quality, equipped with a light alarm, restores a more realistic night vision video effect,
3 Alarm Methods: Siren alarm, spotlight alarm, or siren alarm & spotlight alarm, You are free to choose one of these 3 alarm methods
Flexible Customization Features -Customized detection area, customized alarm plan, and custom Alarm Interval. etc
No charge for Human-shape Detection Only: PIR sensor combined with AI algorithm analysis, all-around detection, people, cars, pets, objects, etc. The unique humanoid detection function is open to users for free.
More Trustworthy Privacy Encryption: ZUMIMALL is not only a user-centric security product company but also a smart home partner you should choose
Putting Home in Your Phone
More Than A Little Clear
More Functions, Waiting for You to Experience
Free human-only detection feature
Automatically detect, tag, and record motion in real-time. zumimall smart solar security camera with AI recognition people, pets, vehicles. the camera can emit an alarm sound, the notification will be sent to you immediately, and the video will be saved in a Micro SD card or Cloud.
Free human-only detection feature at no extra charge
Customized Alarm Plan
Upgraded PIR sensor sends you notifications that matter. It sends accuracy alerts to your phone by Zumimall APP when the outdoor camera detects people. Flexibly adjustable motion sensitivity and time setting can be helpful to reduce false alarms.
Customize alarm schedules for more flexible setup and minimize false alarms
Real-time Communciate
Zumimall outdoor wireless camera has a built-in speaker and 360° noise-canceling hypersensitive microphone. You can easily communicate with your baby, postman,or warn uninvited people no matter where you are.
Hold the "Intercom" button to talk.
Keep your family in sync.
One camera can be shared with multiple family members. Just login another App account and share your WiFi camera by scanning QR code or input their account number. Camera sharing can also be easily removed.
Using another email address/phone number to Create a new account
Non-stop Power Supply
The IP66 waterproof camera and solar panel are reliable and durable, Which can protect you in all types of weather throughout all seasons.As soon as the sun comes up, zumimall solar panel can charge up the camera battery.
Operating condition: -4°F ~ 140°F(-20°C ~ 60°C)
Support SD Card/Cloud Storage
If you think buying a cloud service is too expensive, you only need an SD card to record video and check important moments at any time
Videos are saved to SD Card/Cloud Storage by your choice.
Don't worry, We're Easy
How to properly connect solar panel and camera?
Install the wireless camera where you want to monitor.

Confirm a place where the solar panel can get full sun for most of the day and the distance between solar panel and camera should within 14m(25fts).

Secure the 360 security wall mount with the attached 3 screws, then screw the solar panel clockwise to the screw by the hole on the back of solar panel.
How to optimize the efficiency of Zumimall Solar Panel?
Mount your Zumimall solar panel in well-lit places and avoid locations like the shadow of trees, buildings, or other obstacles to ensure sufficient sunlight.

Adjust the orientation of the solar panel time to time to get the maximum sun exposion, since there are different intensities of sun-rays in different weathers, which will affect the energy production.

Wipe the surface of the solar panel with wet tissue or cloth regularly to remove the dust and deris on the panel's surface.
Size Information:
*APP: ZUMIMALL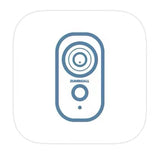 1)Download ZUMIMALL APP
2)Reset the camera
3)Scan the QR code
4)Successfully connected to WiFiZUMIMALL APP can add wireless camera unlimited and support 4 different members to share live broadcasts.
Cloud Service:
AI Services:
NOTICE:
Rotate the protrusion (on the wall mount) anticlockwise to loose, after adjustment, rotate clockwise to tighten the swivel.