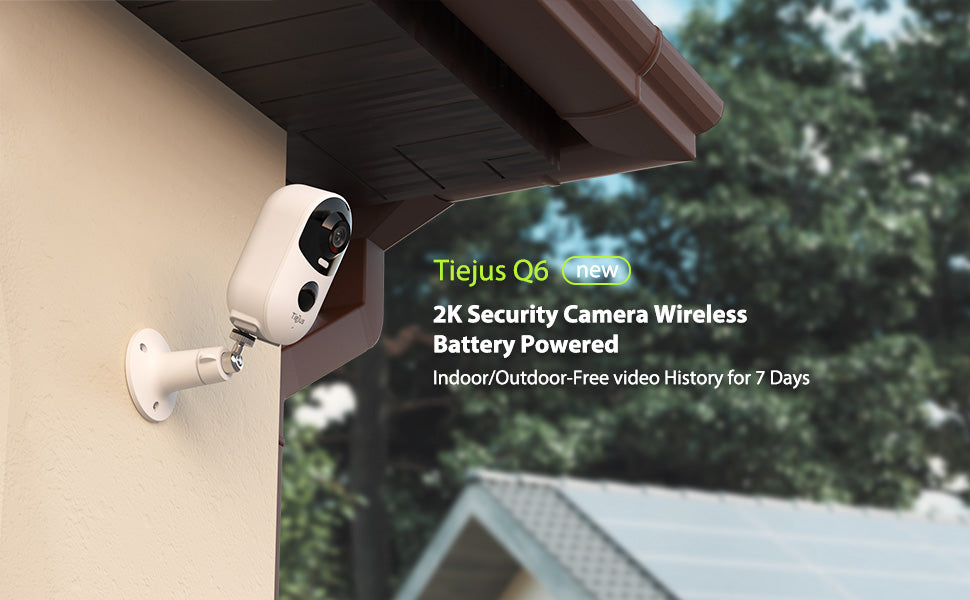 ✅2K FHD full-color night vision and 145° wide-angle
The new Q6 outdoor security camera features a more advanced lens with a 2.9mm focal length. 2304x1296p ultra-high-definition image, 4 infrared lights automatically detect ambient light and switch to color night vision mode to monitor up to 100 feet away. 145° wide angle allows you to see any corner you want to monitor.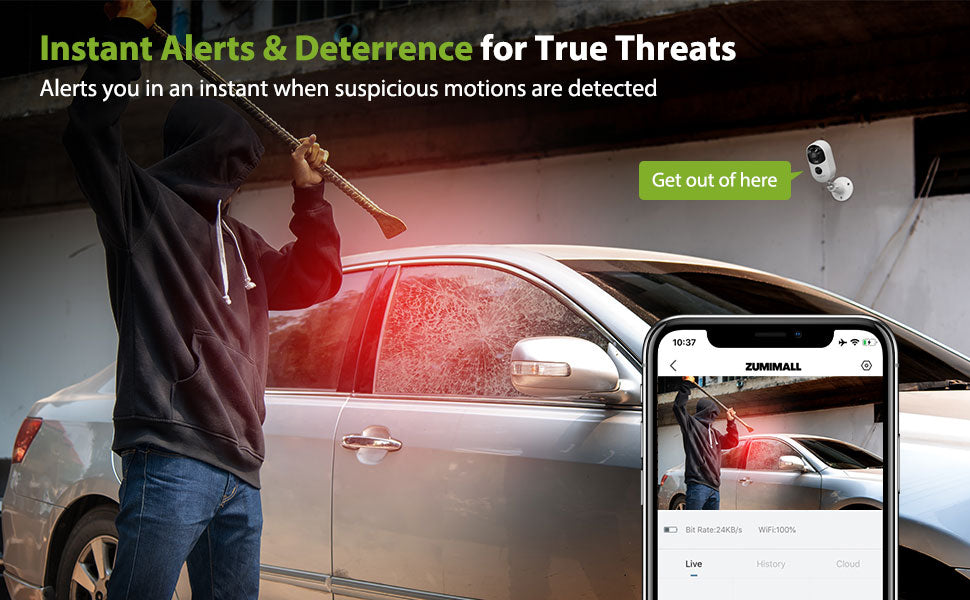 ✅Smart PIR motion detection and instant push alerts
Once the outdoor security camera detects motion, the AI PIR sensor will be triggered in real-time, and at the same time, a notification will be pushed to your phone via the app. You can view the latest events in real-time anytime, anywhere from your mobile phone.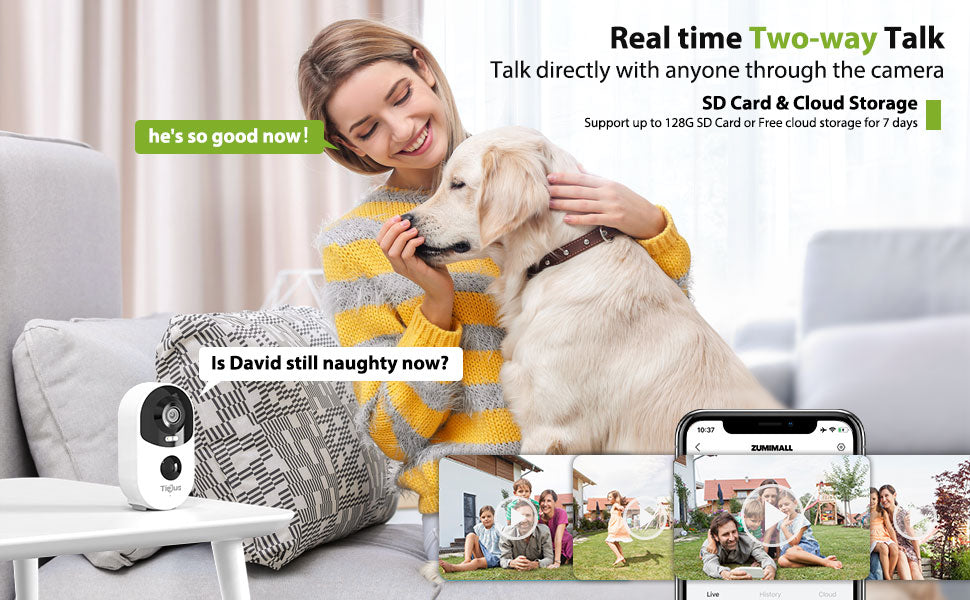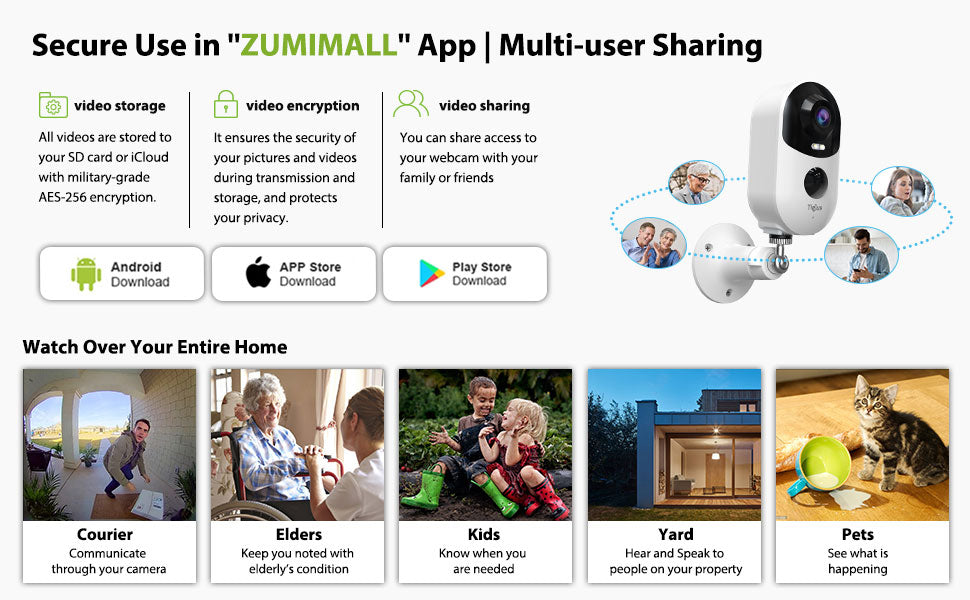 ✅Two-way talk and multi-person sharing
Built-in noise-canceling microphones and high-definition speakers support real-time two-way audio-only calls. You can communicate with anyone through the mobile app, or warn unwanted guests, with optional spotlight and siren alarms to repel thieves. By scanning the QR code, you can share access to the webcam with your family or friends to monitor home security together.
✅100% Wiring Free, WiFi Camera, and Rechargeable Batteries
The Tiejus for ZUMIMALL camera does not need network cables and power cables, you can easily complete the installation alone, a built-in upgraded 4dBi antenna, and the WIFI connection is stronger and more stable than other WiFi cameras. Built-in 5200mAH high-quality rechargeable battery, the normal use time is 2-3 months (except for special circumstances), and the low power consumption mode can be selected to reduce the detection sensitivity of the camera and improve the life of the camera
✅Dual storage mode and privacy protection
Support local SD card storage and 7-day free cycle cloud storage, SD card supports up to 128G, so that your records will not be lost. Videos are protected with absolute privacy using advanced military-grade AES-256 encryption. Tiejus has professional and fast customer service, if you encounter any problems during use, please feel free to contact us.
Easy to install, Set up in Minutes.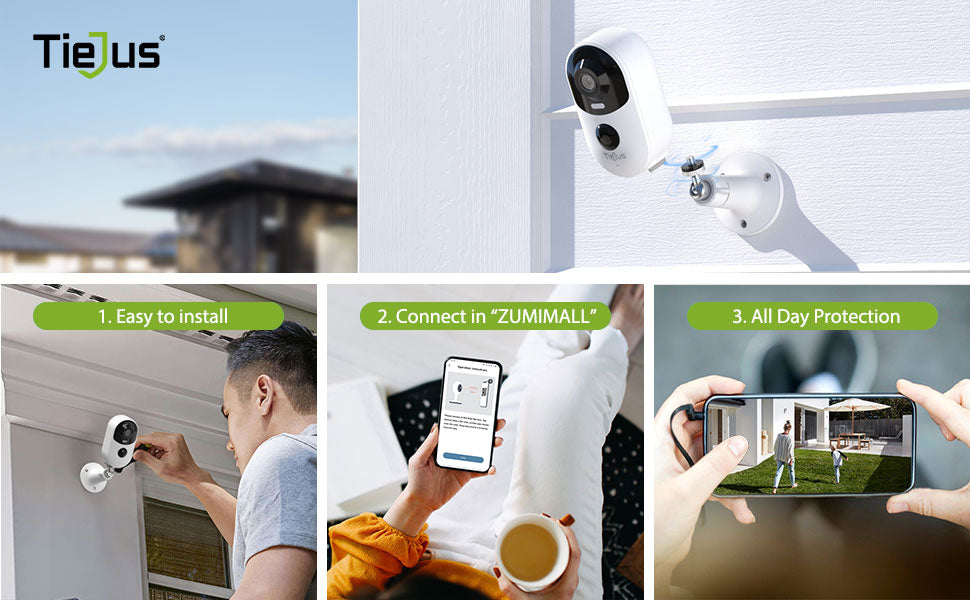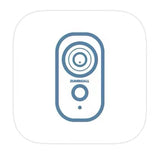 1)Download ZUMIMALL APP
2)Reset the camera
3)Scan the QR code
4)Successfully connected to WiFiZUMIMALL APP can add wireless camera unlimited and support 4 different members to share live broadcasts.
Cloud Service:
AI Services: