ZUMIMALL Outdoor Surveillance Camera -Bk04
24/7 surveillance camera: Bk04 comes with a 5-meter-long USB power cable. You can click on the all-day recording function in the app. All events will be logged around the clock. If the all-day recording is not turned on, Bk04 will function like a battery-powered camera and only send notifications when motion is detected.
360° view: The spherical surveillance camera can pan and rotate up to 355°, tilt vertically up to 120°, and work with the 90° viewing angle lens; enjoy a 360° panoramic view.
Intelligent motion and sound detection: Highly precise PIR motion detection, sensitivity can be freely adjusted from 1 to 10; Only humanoid detection can be activated to detect only human movements and reduce false alarms.
ZUMIMALL Surveillance Camera Protects Your Property
2K Clear Color Night Vision: Bk04 features a 3MP pixel lens with a resolution of 2048×1536; you can enjoy extremely clear image quality during the day; you can also see clear color night vision at night.
3 Alarm Modes: 3 white LED lights and a speaker enable the camera to have three alarm modes: sound alarm, light alarm, and sound and light alarm. Intelligent detection and alerts further enhance your surveillance system.
DIY Detection Area and Alarm Schedule: You can select a fixed detection area and an alarm schedule in the app. If you are a recording enthusiast, then Bk04 is definitely suitable for you.
More Performances Worth Your Attention
Custom Detection Area
Through the app, you can select a specific area for detection to reduce false alarms for other things. You can enjoy truly accurate detection notifications.
Two-Way Audio
The surveillance camera has a built-in microphone and speaker. Through the app, you can press to speak, and you can freely adjust the volume, and the dialogue is clearly visible.
SD Card and Cloud Storage
The WLAN camera offers two storage methods. Images and videos recorded after inserting the SD card will be saved on the SD card, and you can review past recordings at any time. (SD card supports up to 128 GB) The outdoor camera has a 7-day cloud storage trial period, after which you can choose to opt for cloud storage. The cloud plan is optional and can be canceled at any time.
Multiple Scenes in One, All in the ZUMIALL APP
Size Information:
*APP: ZUMIMALL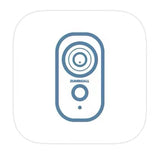 1)Download ZUMIMALL APP
2)Reset the camera
3)Scan the QR code
4)Successfully connected to WiFiZUMIMALL APP can add wireless camera unlimited and support 4 different members to share live broadcasts.
Cloud Service:
AI Services: